A growing number of people are using 3D printing. There is a certain attraction to being able to make almost anything you can imagine. However, the entry barrier might not be as steep as you believe. In this post, we'll discuss why it's possible to 3D print with just a laptop, In this article, we will recommend 7 of the best laptops for 3D printing, based on factors such as price, performance, and features.
Solidworks and Fusion 360 are software that helps you in 3D printing. So to let this software operate smoothly you must have a good laptop with the best specs.
Our top concern is giving our readers the greatest and most practical 3D printing information available online. We do this by fusing our expertise and experience with suggestions and viewpoints from other ardent 3D printing enthusiasts in the field. In this manner, you are given a complete, unbiased image and may leave this article knowing exactly which computers are the best for 3D printing.
The creation of the 3-dimensional model itself is essentially the initial requirement for 3D printing, as I've said a few times already. You won't need to worry about this if you're a beginner 3D printing hobbyist who is more interested in printing than modeling. You don't have to model things yourself because there are a ton of websites that offer 3D models for sale or download.
But if you want to fully benefit from 3D printing, you should eventually start printing your designs and inventions. And you can only achieve that if you teach yourself how to make digital model stuff.
ASUS ZenBook Pro Duo
Key Features:
Screen Size: 15.6"
CPU: Intel Core i7-10870H
GPU: NVIDIA GeForce RTX 3070
RAM: 16GB
Operating System: Windows 10 Pro
This guide is off to a solid start with the ASUS ZenBook Pro Duo. The ZenBook exceeds all of the requirements we have specified above, as you will see from the specifications. This laptop has a powerful enough Intel i7 processor along with a GeForce RTX 3070 graphics card, and 16GB of RAM to handle even the most intensive 3D modeling and following 3D printing tasks.
The dual-screen layout of this laptop is its most remarkable feature. The Screen Pad Plus contains a second pivoting screen in addition to the main 4K OLED panel, which offers a bright display. With this extra screen, a second data collection surface is created, which is ideal for 3D modeling software.
Equipped with the eight-core Core i9 CPU
Great overall gaming performance
Dual-screen functionality easy to use
Speedy SSD
Stays cool when gaming
Chunky and heavy
Short battery life
Weak audio
Price:
The price of this laptop in the market is USD 4,500.
Apple MacBook Air
Key Features:
Screen Size: 13.0"
CPU: M1 Chip with 8-Core CPU
GPU: M1 Chip with 8-Core GPU
RAM: 8GB
Operating System: macOS
Even though I have always favored Windows computers, I had to incorporate the MacBook Air for the Mac computers out there. But the MacBook Air is fully capable of managing the entire process from beginning to end, and I am aware that some ardent Apple product fans wish to start 3D printing as well.
Because Apple utilizes its M1 chip within the MacBook Air, it can be challenging to compare it to one of the more commonplace Windows computers. The CPU and GPU are powered by this chip, which differs from the conventional components of Intel, AMD, as well as NVIDIA products you'll find in this list.
High price
Limited Storage
Price:
The price of this laptop in the market is USD 999.
Lenovo Legion 7
Key Features:
The CPU used is the AMD Ryzen 9 5900HX
The graphics used are NVIDIA GeForce RTX 3080 Laptop GPU
The memory used is 32 GB DDR4-3200
Storage is almost 1TB SSD
Display 16-inch 
Resolution is (2560 x 1600)
It's difficult not to anticipate great things from the Lenovo Legion 7. One of the most potent devices on the market, the Lenovo Legion 7, its Intel-based sister, has a huge 16-inch display. The Legion 7 ($1,439.99 to begin, $2,649.99 as verified) is an AMD version of that machine (notice the absence of an I The architecture and some of the components from our findings of the previous unit, including an RTX 3080 and with a 32 GB of Ddr4 Memory, as well as 1TB of SSD storage, are carried over to the Legion 7. But this time, a Ryzen 9 5900HX, one of AMD's most advanced mobile processors, is being used.
We expected the same for our assessment of something like the AMD-powered Legion 7 since its Intel-based sister is firmly established as one of the finest gaming laptops for some of its power, style, and pricing. Although it isn't ideal, we were nevertheless happy with the laptop.
 Excellent design 
RGB lighting 
Outstanding performance 
The Lenovo Vantage is practical
Excellent orators
Runs hot and loudly
The Webcam quality is pixelated.
Price:
The price of this laptop in the market is USD 2,649.
Asus ROG Strix Scar 17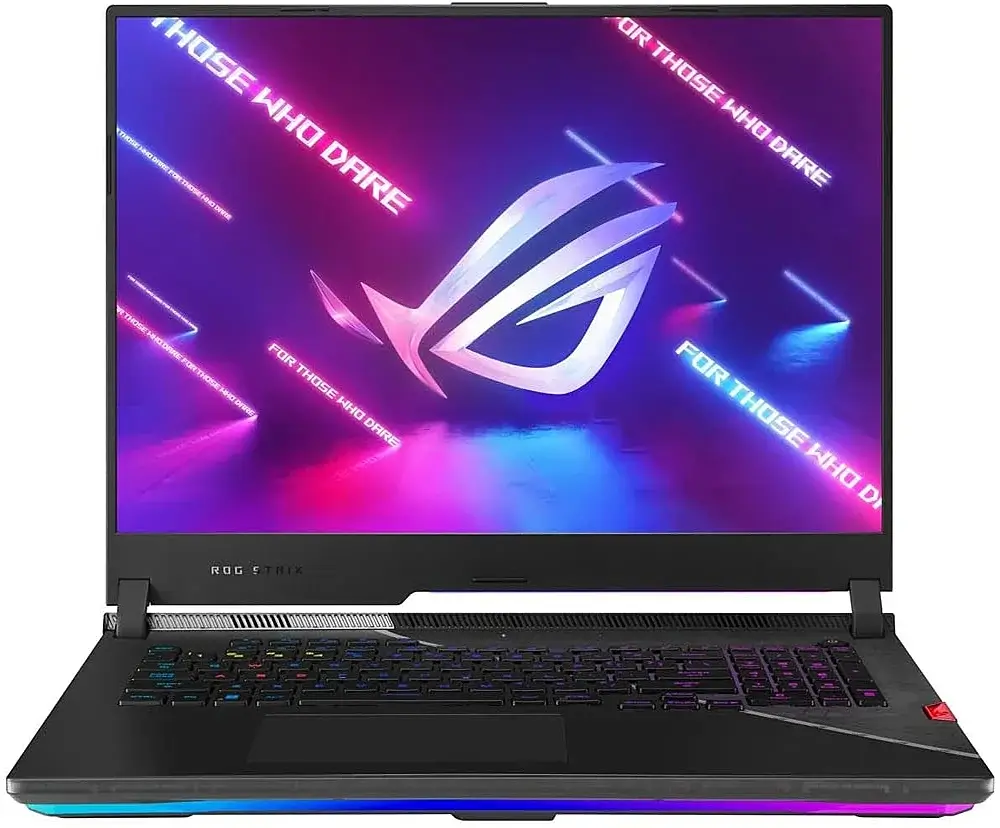 Key Features:
CPU is Intel Core i9-12950HX
Graphics are Nvidia GeForce RTX 3080 Ti 
Memory is a solid 32GB DDR5-4800
Storage is of 2TB PCIe Gen 4 SSD
The display size is 17.3-inch 
The resolution is 2560 x 1440
Many manufacturers place more emphasis on aesthetics than functionality when designing laptops. Rubber grips as well as soft-touch surfaces give Asus' ROG Strix Scar series a utilitarian design purpose, even though the G733Z model we recently evaluated lacked high-end performance. However, the Asus ROG Strix Scar 17 Special Edition that we're looking at today has a stylish design and the power to match.
The Asus ROG Strix Scar 17 SE is a serious contender as one of the best gaming laptops even though it lacks a webcam and is therefore less useful as a work-from-home computer. It was also difficult to locate in stock at the time we published this review. However, a few competing products outperform the Strix Scar.
Strong components
Functional build
Many ports to plug into
Stays cool to the touch
Lacks an integrated webcam
Price:
The price of this laptop in the market is USD 2,499.
Gigabyte Aero 17
Key Features:
CPU is Intel Core i9-10980HK 
Base Frequency is 2.4GHz base frequency
Graphics: Nvidia GeForce RTX 3080 
Intel UHD 630
RAM included is 64GB 
Screen is 17.3-inch UHD 4K OLED
Pantone-certified
Storage is around 2 x 1TB SSD
One of the most potent transportable workstations for creative professionals that you will find is the Gigabyte Aero 17 (2022). You won't run out of ports, the appearance and display are exquisite, and the build quality is superb.
Best of all, it is priced significantly lower than its less potent competitors regardless of configuration, thus any creative worker wanting to replace their work laptop should consider it first due to its excellent price-to-performance ratio. However, despite its ability to play AAA games quite effectively, all of this comes at the expense of convenience and battery life, and there are stronger 3D printing laptops available.
Excellent performance 
Beautiful display 
Amazing build quality 
Lots of ports 
Great price
Runs hot
Not ideal for gaming
Fairly heavy
Adequate battery life 
Fairly loud while under stress.
Price:
The price of this laptop in the market is USD 1,599.
Razer Blade Pro 17
Key Features:
Screen Size: 17.0"
CPU: Intel Core i7-10875H
GPU: NVIDIA GeForce RTX 3080
RAM: 16GB
Operating System: Windows 10 Home
With the help of the Razer Blade Pro 17, we're going to end this list on a high note, just as we did when we began. The fact that this is the sole laptop in this review with a 17.0″ screen comes first. The screens on each of the other Windows laptops were 15.6″. A 17.0″ laptop that I personally used for ten years was fantastic for 3D modeling. When working on this, having more screen area is quite helpful!
The Razer Blade Pro is equipped with the most potent GPU of any machine on this list, an NVIDIA GeForce RTX 3080, and an Intel Core i7 processor. You can model, render, and analyze thanks to these two components and the 16GB of RAM.
Plenty of ports
Improved keyboard layout
Excellent trackpad
Extremely fast 300 Hz refresh rate
IPS display
Loud, well-placed speakers
High price
Tends to run hot
Loud fans
Price:
The price of this laptop in the market is USD 1,899.
Acer ConceptD7
Key Features:
9th Gen Ci7 
HexaCore Coffee Lake Processor 32GB 
1-TB SSD 8-GB 
NVIDIA GeForce RTX3080 GDDR6 
Max-Q 15.6″ 4K Ultra HD IPS 
Pantone Display Backlit Keyboard
The Acer ConceptD 7 is an extremely potent mobile workstation designed for creative professionals that require a powerful laptop for handling difficult and demanding jobs like 3D rendering. The Acer ConceptD 7 is justified at the (very costly) asking price if it describes you. But the majority of individuals would be better off looking somewhere else. Acer ConceptD 7 was produced by Acer as a direct competition to the makers of the MacBook, which is an Apple company and it did a pretty good job at that.
The ConceptD 7 is the best option if you live in a creative industry that requires color fidelity since its factory-adjusted screen guarantees that colors are reproduced accurately.
The Acer ConceptD 7 is a remarkably powerful laptop that is loaded with some of the most cutting-edge mobile technologies available today. This laptop is fantastic for demanding jobs like 3D rendering.
Extremely potent
Less expensive than a MacBook Pro
Ample choice of ports
Expensive
Simple design
Not as light and thin as the MacBook Pro
Price:
The price of this laptop in the market is USD 2,999. 
Conclusion
You should be in excellent shape for 3D printing if you choose any one of the laptops on our list. After all, they wouldn't be on the list if they couldn't handle 3D printing! These are however the most crucial considerations to have in mind if you want to carry on your search and check out other laptops you may find.