It is very important to possess the best keyboard and mouse for 3D modeling. Not every other casual mouse or keyboard can be enough and sufficient to handle the extensive tasks that any 3D artist or modeler may need. Any artist who may be using Blender, Fusion 360, or Sketchup, must be very sure of how important it is to have the right mouse and keyboard for efficient working.
WHY DO WE NEED THE BEST KEYBOARD AND MOUSE FOR 3D MODELING?
A keyboard is one of the most fundamental pieces of tool for making 3D models. Therefore, you need to seek out the model that is the most precise, high-quality, and practical. Finding the best keyboard for 3D modeling and designing at an affordable price can occasionally be difficult because modern manufacturers offer a wide range of possibilities.
Also, making sure the mouse is compatible with the majority of CAD programs, such as SketchUp, Revit, Blender, etc., is very important. Additionally, the mouse needs to work with your OS too.
Before you spend money on one, the first concern is comfort. You must make sure that this crucial equipment is quite comfortable because you will be using it for eight or more hours each day in the same position and with the same mouse.
Below is a list of the best keyboard and mouse for 3D modeling:
The era of mouse wheel clicking is over. With the unique middle mouse button provided by 3Dconnexion CadMouse, scrolling the wheel is no longer necessary and is just more convenient and comfortable to push. This mouse is ergonomically designed with the working, resting, and playing habits of CAD professionals in mind, providing the ideal comfort and comfortable position to operate for extended periods. The 3Dconnexion CadMouse is exclusively focused on CAD users, unlike the traditional mouse, which was not created with CAD users in mind. Take advantage of this CadMouse's comfort!
FEATURES:
It is of a cable connection type.
Black matte as a color.
Laser movement detection.
8200 dpi for movement resolution.
Only works with Windows 8, 7, and Vista.
PRICE:
The price of 3Dconnexion CadMouse is USD 137.
Ratel was designed as a gaming keyboard with 19 non-conflicting keys and 12 multimedia keys. Users benefit from the highest level of efficiency when working or playing games in this fashion. Additionally, it offers easy access to the audio settings.
In wired mode, you can press any combination of buttons at once, and all of your orders will be registered and carried out, resulting in a smooth and fast gaming experience. This is made possible by a non-conflict design.
A keyboard for 3-d design should function like this. The body is composed of high-quality metal that is non-slip, shockproof, and wear-resistant. Ratel has an ultra-thin floating keycap that is removable and positioned at the perfect height for maximum keystroke efficiency.
FEATURES:
Simple and much more convenient
Modernized design.
3-color backlighting is cool.
Wired interface.
Backlighting for keyboard: Yes.
1.96 pounds in weight.
The color is black.
PRICE:
The price for Ratel All Metal Keyboard is USD 80.
Logitech G602 Lag-Free Wireless Gaming Mouse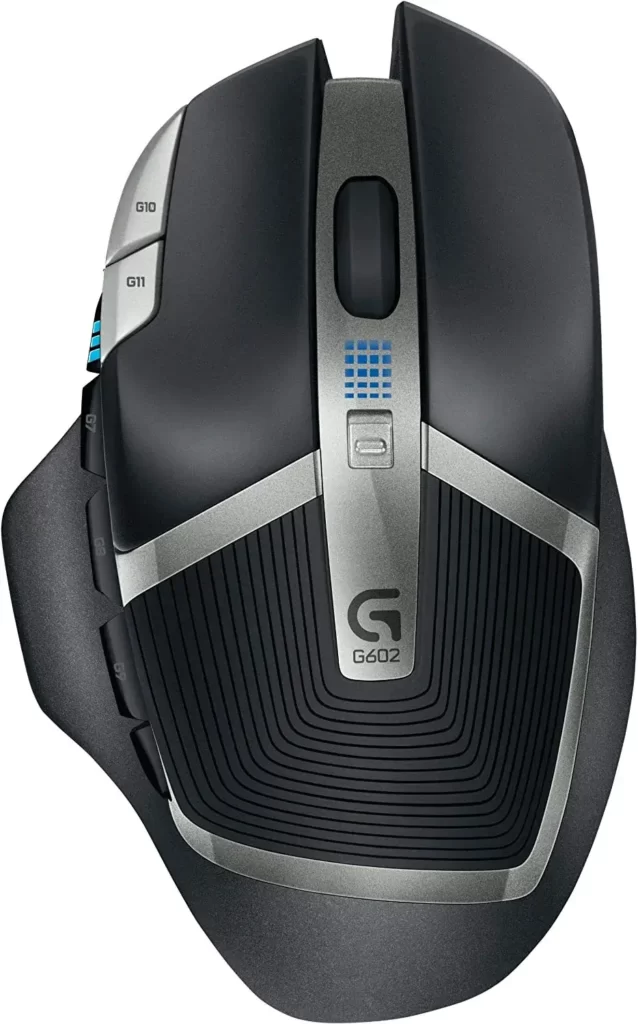 Only with Logitech Performance Mouse MX, you can do anything! This masterpiece, the result of five years of ground-breaking engineering work, puts the power of exceptional performance in your hands and lets you complete your tasks flawlessly.
The Logitech G602 has a precision cursor control, enabling you to use it on almost any surface, including glass. Since it is wireless, all you need to do to keep working is plug in the integrating receiver and avoid getting tangled up in those tangled wires. Hyper-fast scrolling, quick zooming, and other extremely fascinating possibilities are all possible with the fingertip controls. This mouse is without a doubt the greatest in its category because it is made for unequaled comfort throughout extended periods of uninterrupted work.
FEATURES:
250 hours or more of battery life.
High-precision, power-efficient Delta Zeo sensor technology.
Gaming-grade wifi with no lag.
Battery life is maximized in the performance and endurance modes.
20 million click-rated long-life buttons.
For personalized game control, there are 11 customizable buttons.
Instantaneous DPI adjustment.
Windows 8 and Windows
PRICE:
The price of the Logitech G602 Lag-Free Wireless Gaming Mouse is USD 169.
Razer BlackWidow Ultimate has drawn the interest of more customers due to the addition of additional features. The maker first included state-of-the-art Razer Mechanical Switches. The first and only technology created particularly for gaming keypads is this one.
Additionally, it has individually lighted green LEDs from Razer's Chroma lighting system that can be adjusted using the Synapse program. You can produce a variety of lighting effects in this way.
Given the qualities listed above, using Razer as a keypad for 3D graphic creation is simple.
FEATURES:
Sturdy body
Removal of the handrest.
Pleasing haptic sensation
Pass-through for USB is not USB 3.0.
PRICE:
The price of the Razer Black Widow is USD 199.95.
This mouse is nothing less than "wonderful"! This professional mouse is correctly weighed and contains high-tech capabilities to fulfill every requirement of AutoCAD, creating work as smoothly as ever. With the hand rest, you may comfortably work for extended periods. The 3Dconnexion is the best mouse for 3D modeling!
FEATURES:
3DConnexion Wireless Technology at 2.4GHz.
Battery: Lithium-ion Polymer (Internal, Rechargeable).
USB Port Access.
Simultaneously charging and downloading.
Soft-Coated Full-Size Hand Rest
FastView Keys
Toggle Rotation Key.
Keys with intelligent functions.
On-Screen Presentation.
Keyboard alterations (Ctrl, Alt, Shift, Esc).
Electronic NumPad
total of 15 programmable keys.
PRICE:
The price of 3Dconnexion 3DX-700049 SpaceMouse Pro is USD 282.99.
A multi-tasking keyboard designed exclusively for Chrome OS is the Logitech K580. You can easily switch between messaging on your phone and typing on your Chromebook thanks to a smartphone tray.
One keyboard can be used to type on a PC, tablet, or smartphone. The built-in phone cradle makes multitasking simpler. This keyboard for 3D graphic creation has a slim design and dedicated Chrome OS shortcuts, including a number pad, Google Assistant, launcher, and search.
Typing on the keyboard is smooth and laptop-like. Your battery will last longer because of the auto-sleep feature, allowing you to use it throughout your workday.
FEATURES:
Small in size and weight.
Chrome OS design.
Smartphone holder
Function keys and Caps Lock are not included.
PRICE:
The price of Logitech K580 is 34.58.
For usage with high-end jobs like 3D modeling, the Logitech G603 was made.
The battery lasts incredibly long—so long that it becomes impossible to keep track. According to the software that warns when the battery is becoming low, you can keep playing without interruption. Additionally, it offers an energy-saving mode that can help you save a lot of money and extend the battery's life.
As far as the area is smooth and dry, the sensors work well. It performs amazingly with a listed response rate of 2ms, which is far faster than the human response limit and results in zero lag. This Logitech mouse is an obvious choice if you want a reliable, high-performance mouse at a fairly reasonable price.
FEATURES:
Battery life of up to 250 hours
Power-saving and precise sensing technology using Delta Zero
Gaming-grade wifi with no lag
Battery life is maximized in performance and endurance modes.
20 million click-rated long-life buttons
11 configurable buttons to control games in a specific way
On-the-fly DPI adjustment
For Mac OS X 10.6.8
PRICE:
The price of the Logitech G603 is USD 64.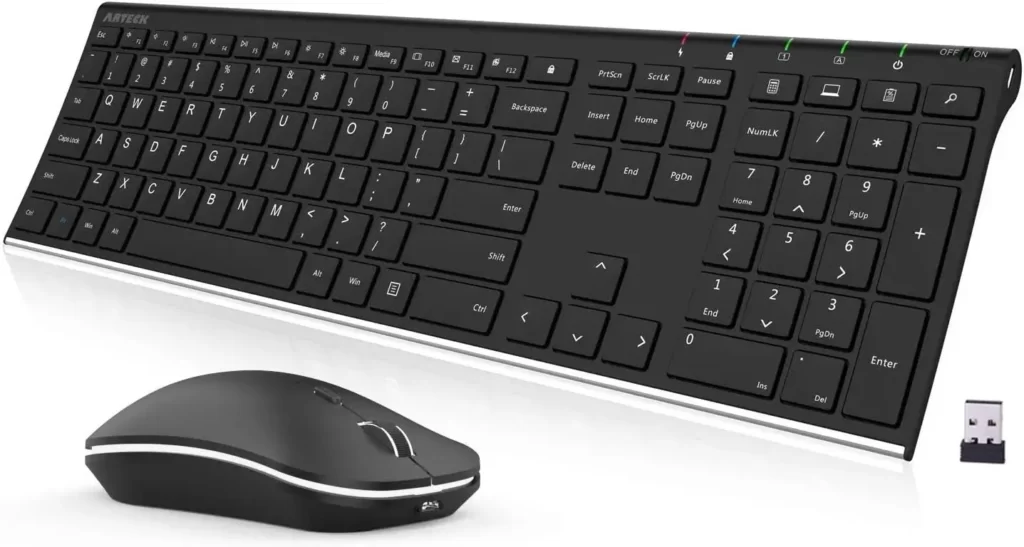 This stainless steel keyboard for 3D graphic creation ensures the utmost working comfort. Because of the low-profile keys, typing is quiet and comfortable.
Common operations like volume control, playback direction, text copy, and paste, etc. are easily accessible. Also, there is a small and sleek number pad.
The keyboards are comfortable to type on and touch. You may keep the media controls and frequently used features close to hand. These keys may allegedly be used over 3 million times continuously, according to the developer.
Rechargeable Li-polymer batteries have an additional advantage that I feel is necessary to highlight. Up to six months of use are possible on a single charge.
FEATURES:
Leading-edge ergonomic design.
Noiseless, practical typing.
The rechargeable battery.
PRICE:
The price of the Arteck Wireless Keyboard is USD 30$.
CONCLUSION
The main takeaway from this is that precision is essential when it comes to 3D modeling and should be your top priority when selecting a mouse, keyboard, or any other device. When selecting a mouse, you should consider comfort, design, and the technology employed. Your designs as well as overall productivity may suffer from a keyboard and mouse that function poorly.
To get a sense of how users have found a specific product, read online reviews before making a purchase. Last but not least, make sure your new mouse and keyboard are properly configured to function with your system and many other associated devices when you get them.
We hope you loved our best mouse and keyboard for 3D modeling and found it helpful.