Hey folks, if you're seeking the best Maya courses and want to learn the software for 3D modeling and animation, you've come to the correct place. For 3D modeling, I previously revealed the best Blender courses, and in this article, I'll share the top online May courses for beginners.
For those who are unaware, Maya is a potent program that can render 3D animation, modeling, simulations, and more. Due to its durability and adaptability, it is regarded as the industry standard for animation. Many Academy Award-winning animated films, including Frozen and Wreck-it-Ralph, were developed using Maya.
Introduction to Autodesk Maya
It is made by Autodesk and combines character rigging, lighting, rendering, painting, animation, dynamics, and 3D model creation. Another of the best features for 3D animation currently available is Maya. Furthermore, the progressive animation feature aids in the production of realistic animation effects.
The application also makes it simple to use polygon modeling to generate 3D models. You may create any surface and apply transparency, gloss, etc. using Maya's Standard Surface Tool.
Maya has played a crucial role in helping many professionals expand their skill sets. Autodesk is the owner and developer of Maya. You can create a virtual workspace in Maya to use for implementing and editing the material for a specific project. The user has a great deal of flexibility because these workspaces can be saved in many formats.
You will have every tool you need to succeed in making animations for violent games, Television, or even movies once you have mastered Maya. However, teaching Maya can be a challenging and rewarding endeavor.
Advantages of Learning Maya Courses
Some of the many advantages of learning Maya include the following:
Greater pay
Because hiring managers usually seek out experts with top-notch technical skills, investing in your professional development as an animator will result in higher income. Teach Maya to boost your chances of landing a job and increasing your income while doing what you love. Experienced animators as well as lighting artists make six figures per year.
Career development
Learning Maya gives you the ability to develop in your profession, whether you're a beginner looking for your very first job or a true professional wishing to switch jobs as an animator as well as a lighting artist. While 3D animation professions are extremely technical, they are also aesthetic.
Enhanced technical abilities
Another of the most flexible 3D animation programs is Maya, and by studying it, you may develop your versatility as an artist. You may use it to create entire worlds, complete with characters, settings, items, and so forth, and then animate them. Fur, cloth, effects, simulations, materials, and shade creation are all possible in Maya. You can still use Maya to showcase your artistic talent and create stunning images that will awe hiring managers.
You will have so many opportunities after you master this difficult software. Additionally, it will allow you to specialize in particular disciplines to further develop your technical skills and train for various elements of your lighting profession.
After learning what Maya is and why you should learn it if you're wondering whether you can study Maya online, don't worry. We've done the legwork for you and prepared a list of the finest 5 Maya courses available. These programmers will assist you in accomplishing your objectives by guiding you through with a step-by-step approach.
Autodesk Maya Course for Beginners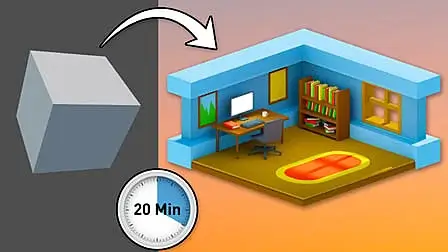 We recommend you to join the "Learn Maya in 20 Minutes" course. The fundamentals covered in this course include 3D navigation, key tools instead, settings, simulation models, creating and assigning materials, lighting, rendering, and setting up the camera for your final render. This course provides you with everything you need to realize to get started with the software in Maya quickly.
No background experience in Maya as well as 3D modeling is necessary for this course, which is intended to be available to anyone who wants to learn how to work with Autodesk Maya. If you find that the course moves a bit too rapidly for you due to its brief introduction-style design, you may check out the slower-paced and more extensive "The Complete Beginner's Guide to Maya" course, which is also available on SkillShare.
Learning Outcomes:
You will learn everything you need to go including the
Interface navigation
Important tools
Modeling
Printing materials, lighting
Rendering
You should leave this course to understand how Autodesk Maya functions on a fundamental level. You ought to have created the doughnut model shown on the class avatar by the end of the course and be able to render it so that it appears realistic.
Learning Outcomes:
For this to occur, you, the student, should:
Know Maya's location and how to get about with her
Know how to make, use, and manipulate primitive polygons
have practical knowledge of polygonal subdivision
Show that you can texture your 3D creations.
You must be familiar with using Maya's lights.
To make a final image, you should understand how to deal with Maya render parameters.
Autodesk Maya Course for Intermediate
Do you wish to learn more about three-dimensional space? Would you prefer to invent settings, characters, and storylines of your own? Do you desire to learn everything there is to know in one class? Then welcome to Entire Guide to Maya 2023: Learn to make comprehensive animation shots for any short films if that is the case.
Even more advanced students can learn a lot from our main project, which is intended for pupils at the novice level just beginning their 3D journey. Substance Painter, Maya 2023, and After Effects will all be used in the process. Ensure that all the software is updated and installed.
After completing this Maya course, you will be able to:
In Maya, you can model, texture, and render assets.
Rig and animate simple objects.
Make animated stories and animations that look like movies.
Learning Outcomes:
Maya Interface
Post Production
Modeling
Rendering
Texturing
Animation
Rigging
You will learn some intriguing strategies to quickly produce a floating as well as an animating blob effect in this short course. These techniques may also be used to produce writing, which we will also explore in Lesson 5.
The pace of this course makes it more appropriate for intermediate users or past pupils, but if you are brand-new to Maya and pause and rematch lectures, I believe anyone could possibly follow along. You are not going to watch this course at twice the speed. We'll go rapidly because I require you to put in minutes, not hours or days, to get this result.
Learning Outcomes:
Texture deformers in a loop
Employ motion pathways
Lights are a good way to successfully use subsurface scattering.
Use an HDRI to illuminate the scene.
Make a camera loop but also feel handheld by animating it
Custom text can be given this blob effect.
Render in Maya using Arnold
Image blending in After Effects
Modify colors when composing
Render an After Effects movie file.
Autodesk Maya Course for Experts
Greetings to this course in which you'll learn how to create a complex logo animation using Maya's MASH motion graphics toolbox.
Starting with a simple 2D logo, you'll transform it into a captivating 3D logo animation.
The target audience for this course is intermediate through advanced users. To follow along with this course, you should hopefully have some prior knowledge of Maya. If not, you may have taken some of my other basic Maya classes. If you are a quick learner, you can try to dive straight in, but you may need to view the course multiple times at 1x speed.
For your convenience, you can download and use every project file.
Learning Outcomes:
Create a 3D shape from a 2D vector graphic.
Voxelize the logo and carefully manage its animation.
Discover how modular animation will enable us to quickly alter challenging animations.
Animate the items on a path.
Objects should have trails.
a dynamic simulation
Input simulation control
Increase and regulate color change
Scene lighting and rendering
Conclusion
Listed above are some of the top programs available in 2022 for learning Autodesk Maya. You will have the necessary theoretical and practical expertise to use the software effectively. You will be able to advance your career and improve your chances of finding employment in the future because the movie business has a strong demand for creative technicians.
Please don't hesitate to share this list of the Top Maya courses with your family and colleagues if you enjoyed it. You can leave a remark below if you have any thoughts or suggestions.