Do you have an interest in 3D modeling and very realistic sculpting? Particularly modeling the characters to be used in games? Then you must be well aware of Zbrush which is designed and widely used for all such purposes. This article will give you the 5 best laptops for Zbrush, based on performance, portability, and price.
ZBrush is one of the most popular 3D sculpting apps at this point. It is very easy to use and comes with all of the features in it that 3D artists look for.
Nonetheless, this app is CPU-dependent and calls for a super powerful processor and a minimum of 4 gigabytes of RAM to reach and fulfill your expectations.
You must consider all the following specs that come with a laptop and not only make your choices solely based on the processor and RAM.
Design and build quality:
You must consider the design and build quality of a laptop. And take a look at the laptop to see if it is constructed of durable materials.
Price considerations:
When you are going to buy a laptop, you should be well aware of your price range, because you do want the price to be economical and the quality to be unmatchable.
Screen size, resolution, and pixel density:
The resolution, screen size, and pixel density of any laptop you are looking to buy will be a heavy factor when you will be considering whether or not it is the perfect device for you.
Zbrush requires a laptop with a top resolution and a fine DPI screen.
RAM and storage capacity:
You are also required to think through how much storage capacity and memory your laptop should have. The Zbrush software is not lightweight and will need some space in your RAM. Laptops that have a bigger RAM can handle larger scenes and files, they are also able to quickly render and sculpt the perfect design for you.
As far as storage capacity is concerned most laptops with either 128GB or 256GB of storage space will be more than enough.
Keeping the requirements of ZBrush in mind, the following is a list of the few best laptops for ZBrush offered in the market right now.
Gigabyte AERO 15S OLED – The best laptop for Zbrush
Key Features:
GPU GeForce GTX 1660 Ti
9.55-pound weight
i7-9750H CPU
DDR4 RAM of 16 GB
Battery life of up to 8 hours
NVMe SSD storage capacity of 512GB
The Gigabyte AERO 15S OLED is a very high-performance laptop that offers a ton of power to artists who are interested in a transportable machine. It is available with 16GB of DDR4 Ram, an Intel i7-9750H CPU, a GeForce GTX 1660 Ti GPU, and 512GB of NVMe SSD storage.
The display is a whopping 15.6 inches with a 4K UHD OLED Screen Display. This shows that the display screen has super good color correctness and contrast of hues and can replicate very bright whites and deep blacks.
If you have the settings of the details turned up then the GTX 1660 Ti GPU will be able to show the finest 1080p resolution for most of the games available with a very high frame rate. It will also be able to support 3D rendering for software such as Lumion.
The Gigabyte AERO 15S gives up to eight hours of operating battery when you are making use of it for watching videos or browsing YouTube. If you are gaming, you can expect almost a battery life of 4 hours before you have the urge to plug in the laptop once again for charging.
If you need a very powerful laptop that will also be able to handle 3D printing tasks, then for you the Gigabyte AERO 15S is simply the best laptop for ZBrush available at the moment.
CUK AORUS 15G by Gigabyte
Key Features:
CPU Intel Core i7
A weight of 4.4 pound
32GB RAM
5 hours of battery timing
Storage of 1TB NVMe SSD
Windows 10 Home Edition is installed
GPU NVIDIA GeForce RTX 3080 8GB
If you are on the look for the best laptop for Zbrush sculpting, then you may look no further as the CUK AORUS 15G by Gigabyte will be able to show you that it is the only choice that matters. This laptop is created in a way that it will deliver the finest performance in a compact factor & form and that too at a reasonable price.
This laptop comes with a fifteen-inch display screen that will offer you a resolution as high as 1920 x 1080 pixels. It comes with an Intel Core i7 CPU, 1TB of NVMe SSD storage, and 32GB of RAM.
For ensuring that you get extraordinary quality performance of graphics while undertaking other tasks on your PC or gaming, they have put in the NVIDIA GeForce RTX 3080 8GB GPU.
This laptop also comes with many ports, such as a USB 3.1 Type-C port, an HDMI port, an SD card reader slot, two USB 3.0 ports, and an Ethernet port. You may attach your external devices for example scanners, printers, and many more using these ports deprived of any issues at all.
With a long battery life which is around five hours that counts as wonderfully good, bearing in mind its weight of 4.4 pounds when unoccupied and the size as well. The battery can be detached so that the user can transport it around with no trouble if needed during work vacations or trips!
MSI Prestige 14 Evo Professional Laptop
Key Features:
16GB RAM
CPU Intel Core i5-1135G7
NVMe SSD Storage with 512GB
Iris Xe GPU from Intel
3.57-pound weight
Thunderbolt 4
Windows 10 Home Edition
One of the best laptops for Zbrush and 3D sculpting is considered to be the MSI Prestige 14 Evo. It comes with a 14-inch screen along with an FHD display as well as an ultra-thin bezel. The laptop comes with an Intel Core i5-1135G7 CPU that is considered a super powerful processor, which can easily handle around ninety-nine percent of the tasks it is asked for without any problems.
The laptop comprises 512GB of NVMe SSD storage and 16GB of RAM, making it proficient in running several applications and not ever slowing down. It can last up to almost ten hours which will be seen as fairly good battery timing, but it all depends on how you use it and what you use it for.
The MSI Prestige 14 Evo comes with an Intel Iris Xe GPU that can handle maximum 3D programs with comfort and not heating up, including the Zbrush software. The Thunderbolt 4 port in it permits more rapid data transmission speeds in the middle of devices such as flash drives or external hard drives.
Generally, if you are considering a laptop that is not only lightweight but that can also be able to handle Zbrush and much other 3D software, in that case, the MSI Prestige 14 Evo is the right choice you can make!
MSI Stealth 15M Gaming Laptop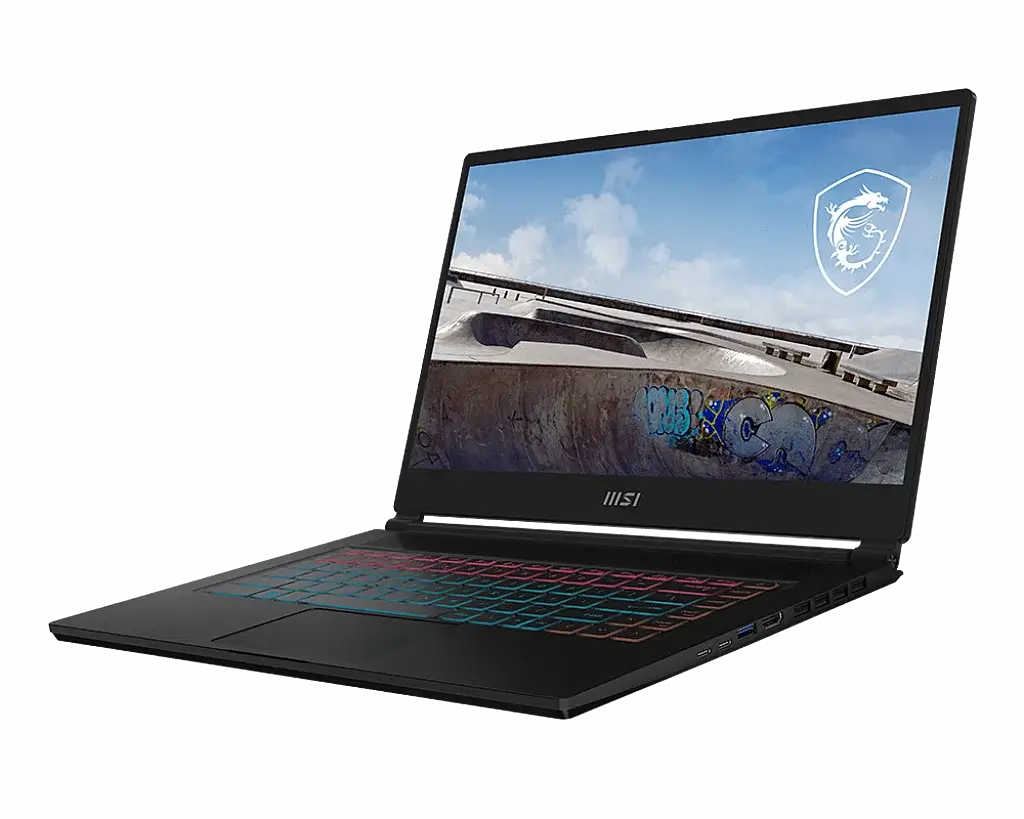 Key Features:
Supports Win10 OS
CPU Intel Core i7-11375H
6 hours of battery life
GPU NVIDIA GeForce RTX 3060
16GB Ram
Thunderbolt 4
SSD Storage Capacity of 512GB
3.73-pound weight
The MSI Stealth 15M Gaming Laptop can be considered one of our top picks as the best laptop for Zbrush 3D sculpting available at the moment. It is a super powerful, transportable machine that can handle the maximum number of tasks you can throw at it at one time, consisting of demanding tasks such as 3D modeling and rendering. As this laptop will also be able to render the 3D objects for you on Twinmotion and Lumion-like software.
The MSI Stealth 15M Gaming Laptop also offers you an Intel Core i7-11375H CPU, 512GB of SSD storage, and 16GB of RAM, which marks it as ideal for working laptop with bulky files or opening numerous applications all at once. It comes with an epic display of 15.6 inches 144Hz FHD 1080p screen that will look great no matter if you are working on video clips or photos.
This laptop comes with a Thunderbolt 4 port and an NVIDIA GeForce RTX 3060 GPU that will allow you to link three external monitors at most the same time without losing performance. It also comprises two speakers which are front-facing that come with the Nahimic 3 audio software already installed, trying to make it a lot simpler to listen to your video or music when using the headphones is not a possibility.
This is a gaming laptop that weighs almost 3.8 pounds and has a size of 0.78 inches thick when it is lid-closed. It comes with a 6-cell battery that is lithium-ion, which lasts for around six hours just on a single charge. But the timing also depends on how you use it.
Alienware m15 R7
Key Features:
It weights 17.8 kg
Kingston lock slot security
15.6-inch display
1920×1080 high resolution
Alienware m15 R7 is one of the most prominent laptops, PC, and desktop brands. The Alienware brand is well-known for manufacturing and designing the top gaming laptops available in the market
If you are to criticize this Alienware laptop by the measure of its appearance, then you may know that this laptop has been brought together very well. That is why the laptop may not only appear good but is tough and lightweight too.
It comes with a 15.6-inch FHD display with a high resolution of 1920 x 1080. This laptop will never overheat. And is one of the best choices for making and designing the sculptures on the Zbrush. If you want to render more objects on software like Twinmotion, Lumion, and such, even then this laptop is best for your needs.
It is custom-made to be used for designing gaming models on Zbrush and gaming as much as you want.
Conclusion
This was a whole guide on which is the best laptop for Zbrush sculpting. And by now you must have gotten a good idea of which laptop will best suit your needs. As you can see, the Gigabyte AERO 15S OLED is the best choice for you as it is the most popular and best laptop for Zbrush.