The use of VR in architecture and design organizations around the world has steadily increased since the introduction of the inaugural commercial Virtual reality headsets in 2022.
If you're looking for the best VR headsets for Twinmotion, you've come to the right place. In this article, we'll take a look at five of the best VR headsets for Twinmotion, so you can choose the one that's right for you.
A difficulty for architects at this time has been finding gear that fits their planning workflow as well as budget while still keeping up with the rate of technological progress.
The Oculus Rift S is one of the many headset models that have come and gone. As each platform's policies change, so too does the VR program for architects on various devices.
The major elements that one needs to think about when integrating VR at your design firm were discussed in our post on how to get started utilizing virtual reality for architectural and interior design.
We'll get into the question of VR headsets and which is best for Twinmotion in this article, focusing on beginners and advanced students who want to gain a handle on the technology.
There is no one-size-fits-all answer to this problem, as there is with the majority of technological choices. However, a few inquiries may help you find the best headset for your requirements.
Let's first attempt to comprehend the main groups of VR headsets currently available on the market.
WHAT TO CONSIDER BEFORE BUYING?
According to our experience, the majority of Small & Medium-sized Businesses start their VR application by purchasing a few headsets for their design teams. This enables them to trial their business procedures before implementing the technology in all teams and initiatives.
The ability to handle heavier models is the main advantage of an attached VR headset. We advise choosing this path if this is a key factor for your company's requirements.
The models are often heavier and Windows PCs fulfill the requirements for one functional headset, which is especially true for Revit users. However, a standalone Virtual reality headset is the best option if you wish to use a more flexible and adaptable VR solution.
360 panoramas
Renders from rendering programs including Enscape, Lumion, V-Ray, Twinmotion, etcetera. Are used to create 360-degree panoramas. Since these files are photographs, the size is not a concern in this instance, and we advise utilizing the Oculus Quest 2 as that is the best headset during client presentations. Using 360° tour software ensures that you may demonstrate the designs to your guests in a high-quality way while offering the advantages of affordability and mobility.
3D walkthroughs
Using models created with programs like SketchUp and Revit. In this instance, the size of something like the files could be a crucial issue for your decision on a headset. Because PC-tethered VR headsets like the HP Reverb G2 are connected to strong Windows PCs, you can use the gadget to examine heavier products. We still advise utilizing Oculus Quest 2 as the preferred headset, though. Oculus Quest 2's argument has been enhanced by the ability to utilize PC power via Airlink, as most 3D VR software has a restriction on polygon size for displaying on a solo headset due to its restricted processing capacity.
HTC Vive Cosmos Elite
Key Features:
Exemplary productivity software
Lightweight, making it excellent for exercise
Wide lenses make it ideal for watching TV and movies.
The HTC Vive Cosmos Elite increases precision at the expense of immediate response, but the price is too high for base stations and controllers from the previous generation.
A modular approach
High-definition LCD
Alyx and Viveport Infinity in Half-Life
Faceplate installation is simple.
Dated style
Setting up external trackers is still difficult.
First-generation base stations and controllers
Pricey
Price:
The price of this VR headset is USD 699.
Oculus Rift S
Key Features:
Superior clarity to the original Rift
Accurate tracking of motion for both controllers and headsets
Attractive pricing range
There is no requirement for base stations
With a crisper screen and now a camera array that doesn't require external sensors, the Oculus Rift S enhances the previous Rift headgear.
The associated cord mess.
Touchscreen devices are still useful.
Comfortably heavy for its size
Compatible with the past
Still connected to a game PC, but without HDMI.
Release close to the quest
Price:
The price of this VR headset is USD 605.
Meta Quest 2
Key Features:
Incredibly immersive experiences
PC tethering is optional and uses an extra cable
Greater resolution
Greater hardware power
Increased networking and sharing potential
The Quest 2 outperforms its predecessor in numerous minor ways, despite a few minor flaws like the larger controllers and less expensive strap. However, despite being wireless, simple to use, and reasonably priced, it is still a fantastic VR headset.
Fantastic solo VR
A manageable weight
Games and applications operate more quickly and smoothly.
Great value
Mobile hardware is still limited for standalone games.
Motion sickness can still occur even with only a few hours of battery life.
Link cable and a better strap cost extra, and 90Hz isn't available at launch. Requires a Facebook sign-in.
Poorly designed controllers
IPD settings in advance
Absence of a headphone jack
Price:
The price of this VR headset is USD 380.
Valve Index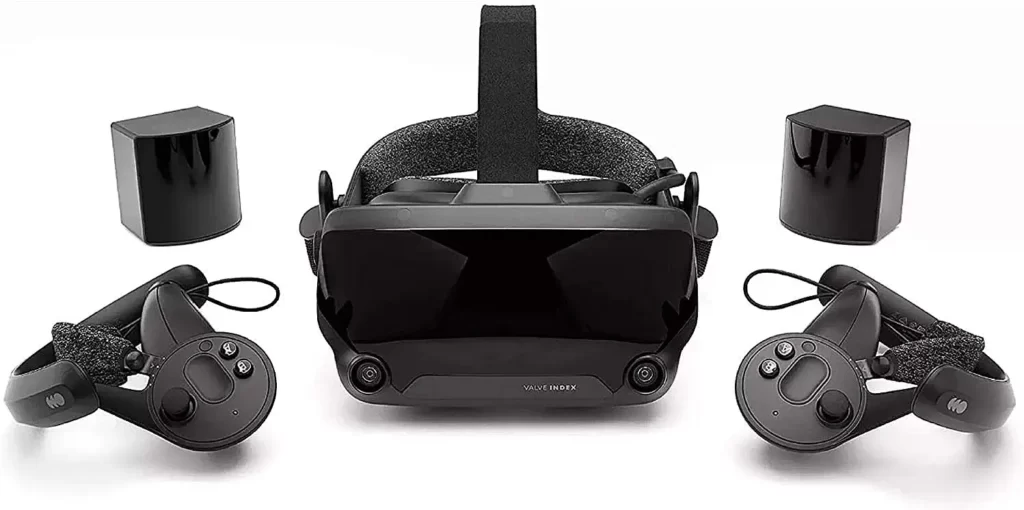 Key Features:
Resolution of 1,600 by 1,440 (per eye)
Refresh Rate of 120 Hz
Motion Detection of 6DOF
Controls are with Valve Index Controllers
Including its tracking system and also SteamVR platform, Valve has over the years significantly contributed to advancing virtual reality. The Valve Index, meanwhile, didn't release its own VR headgear until 2019.
The Valve Index remains one of the top virtual reality headsets that money can purchase almost two years after its release. A broad field of view, a fast refresh rate, and Valve's "knuckle" controls, which can follow the movement of every single one of your fingers, are among its features. It also includes a super display that functions reasonably and even with older GPUs.
The Valve Index may be among the greatest VR headsets available right now, but it also has some of VR's most frustrating drawbacks. It might be tedious and time-consuming to set it up, upgrades can break connections, and you can run into a new fault the very next time you try to use it.
But if you can get over those drawbacks, this is a fantastic VR headset. Compared to many other VR headsets, its higher resolution screen and faster refresh rate let us use it for extended periods without experiencing any pain, or the Index Controllers are still a significant improvement over those that come with the Vive.
Wider field of view
'Knuckle' controllers
Room-scale VR
Great audio
Price:
The price of this VR headset is USD 999.
HP Reverb G2
Key Features:
Platforms: Standalone
Resolution: 2160 x 2160 per eye
Field of view: 114 degrees
Refresh rate: 90 Hz
The HP Reverb G2 occupies a unique position in the VR market because it is neither an extremely expensive device just like Valve Index nor a cheap entry-level VR experience like the Oculus Quest 2. The HP Reverb G2 is rather targeted directly at those who are already aware of their interest in VR gaming but do not want to spend a fortune on a device such as the Valve Index. It has excellent controls and a terrific display, making it perfect for VR gaming. It also doesn't need a lot of room for base stations and real room-scale VR.
Unfortunately, G2's middle-of-the-road strategy has drawbacks. One of the most famous options on the market is the mid-range, mid-spec product, but with VR, that doesn't seem to be the case. Hardcore tech-heads would probably just spend a few hundred bucks more to acquire the significantly more capable Valve Index, while casual users advantage of the simplicity and inexpensive entry cost of the Quest. As a result, the HP Reverb G2 finds itself stuck in an odd middle ground between two groups.
Despite this, we recommend that you look at the HP Reverb G2 rather than the Index if you're searching for a good Console gaming VR headset and don't have a spare room to put aside as a VR gaming place.
Good screen resolution
Great value for money
Easy to set up
Only a 90 Hz frame rate is available
Price:
The price of this VR headset is USD 599.
CONCLUSION
In conclusion, the statistics on the adoption of VR headsets around the world and in architecture indicate that standalone Virtual reality headsets will predominate in both consumer and business use cases. As a result, the best course of action in the mid to long-term is to structure your process around this group of headsets.
Today's limitations (particularly those relating to model sizes) make this decision slightly more difficult when it comes to architecture and design procedures. These issues can be greatly mitigated at a relatively affordable price point with several workarounds, like the use of Oculus Air link, model refinements, and enhancing software capabilities.
We can see that, among the range of VR headsets available to Twinmotion users in 2022, the Oculus Quest 2 tops out in terms of features, price, and mobility.